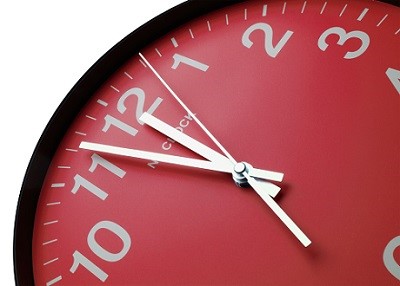 It has been a widely talked about topic in digital marketing over the last couple of years but what really is the 'right' answer to the question: when is the best time to send out emailers and post content to your company's social media pages?
The best way to uncover this mystery is to take a closer look at your audience. Who are you targeting your content at? Who are you sending emailers out to? Who's following your company on LinkedIn, Twitter and Facebook?
Emailers
If your target market is predominately professionals working in the CBD then you may think sending an emailer early in the morning (before work) and early in the evening (after work) is your best bet at achieving greater open and click-through rates. Taken from email marketing platform MailChimp, the below graph shows subscribers are likely to open emails after 12pm – with the most active hours being between 2-5pm.


If your target audience includes university students or those in professions which require them to work at all hours, then the best time to send and post content is in the afternoon or quite late in the evening.
Other useful stats from MailChimp reveal the best days of the week to send out emailers. Aiming to send out emailers mid-week is ideal, however you can experiment with your own audience by sending out emailers on different days to decipher which emails recieve the best open and click rates.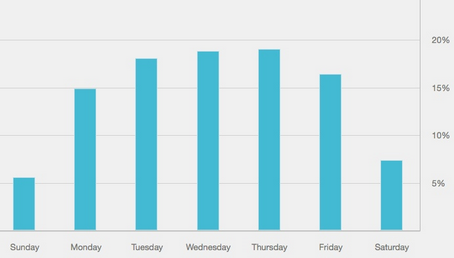 LinkedIn
Many online articles will tell you the optimal time to post to LinkedIn is before and after typical business hours – that being before 9am and after 5pm. Though this might be the logical and most practical answer it may work for some companies, yet not for others. To better understand your LinkedIn audience, go to the analytics page and keep a check on visitor demographics. Visitor demographics include seniority, industry, company size and function. Knowing this information means you can not only target the type of content you post, but also decide on the time of day you should post. 
Twitter
The best way to know your audience is to take a look at your current followers and those you're trying to target. I'd work on the basis of sending out 5-10 tweets a day (sounds like a lot, but remember posts on Twitter are far more frequent than any other social media platform!)   
Facebook
If you manage a company Facebook page then having a good look at the analytics section will help you better understand your audience and when to post.  
The below graph shows the optimum time to post for company X is 9pm at night as this is when the majority of their followers are online. To ensure your post doesn't get lost on your followers' news feeds, aim to schedule your post at the time when most of your followers are likely to be active on Facebook. At Hum, we use Buffer and HooteSuite to schedule social content.